Sérgio Ávila, Vice-President of the Azores Regional Government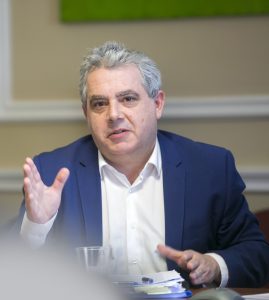 The Government of the Azores has been consolidating its strategy to support entrepreneurship on several fronts, Venture Capital being one of them. The Azores Ventures Fund, financed by the Regional Government of the Azores, aims at investing  in high-risk, high-reward startups and is an alternative to the various traditional financing and other instruments available in the Azores (e.g., Incubation Voucher, Incentive Scheme for  business competitiveness). The Azores Ventures Fund was created by the vice-presidency of the Azores Regional Government and is managed by Portugal Ventures, in close collaboration with the Azorean Business Development Society (SDEA). In addition to the Fund, credit facilities for Business Angels were also launched and dedicated venture capital funds are also in the pipeline.
We estimate that, to date, our partnership with Portugal Ventures has already led to investment in 5 startups, corresponding to a total of 1 million euros invested.
The policy of investing in startups based in the Azores, through specialised venture capital entities, shows that the Azores entrepreneurial ecosystem and our entrepreneurs are growing and are leveraging the new financial instruments available. Today, leveraging venture capital in new companies with rapid growth potential is essential to attracting investment. Our aim is to have a positive impact on the regional ecosystem, with a multiplier effect on the economy. The Government's position is that venture capital be invested in the best startups, and that's why we believe that Portugal Ventures should manage the process. The main goal is to support entrepreneurs and invest in projects that add value to the region. I wish both companies every success and hope they continue to develop and leverage the favourable environment we have created in the Azores for business development.