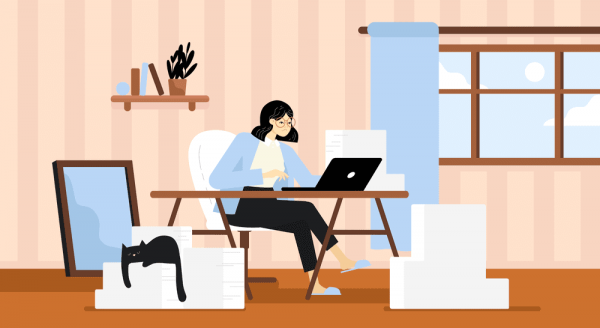 General rules to make teams equally effective at a distance
Do your job and get your team to do it too
Be available to help others do their work
Be available by video to keep in touch and help your team
Always document everything and communicate in writing
Note if these rules don't work to help you improve
Specific rules for remote work from home
General accessibility rules for employees:
Participate in the daily team meeting (the whole organization) defined at x hours, in which after a general update each team member by business unit or in alphabetical order updates their activity – maximum 5min per employee – to be adjusted accordingly with the size of the team. It is important to define the time available for each person for the general meeting, so at most, the meeting should be 15 minutes;
Participate in weekly meetings in which the most specific issues can be discussed – 30-60 min;
Share calendar to make your availability known;
Communicate absences in a clear way – illness, need not to be disturbed, consultations, family reasons, others;
Pay attention to the periods of absence of other workers to better synchronize team work;
Necessary and recommended conditions for employees:
Have a dedicated space to work away from the family space;
Have adequate / sufficient internet conditions to perform the required work;
Have a good head-set and microphone;
Be available during working hours as expected in the office;
Always have an agreed / defined communication channel;
If there are coffee breaks via Skype / Zoom / Teams try to participate at least once a week;
Meeting rules
Always be punctual;
Make set-up 5min before – Skype / Zoom, …;
Pay attention to possible technical flaws – be prepared for alternatives;
Communication rules
Maximize communication 1: 1 – when talking to someone, call immediately and do not ask if you can speak, if you cannot or will not answer or when you will be available;
Using Zoom / Skype, whenever possible, with video – helps to reduce the physical distance;Respond to internal emails within 24 hours, to Slack or Skype (internal) or other within 12 hours (maximum);
Decisions must be made at meetings, never via email or Slack;Document everything – meetings, decisions, important notes and share summaries in written form preferably by email;
Share "sneak-peeks" of the work developed internally, when possible, to give an idea of ​​the work to be developed;
Email structure: short, precise, well structured, complete for the right recipients;
Propose 30 min coffee breaks via Zoom / Skype for the whole team if you can get together and socialize in addition to work – send invite to employees;
Rules for directors:
Remote work requires additional effort on the part of directors in the effective management of good communication. Over-communicate and include everyone in excess – by including everyone, we receive the best possible feedback from the company's best talents;
Be organized and prepared – weekly team meetings, 1: 1 15 meetings in 15 days, being able to delegate work and responsibility to your team members;
Make sure that all information is digitally shared by everyone – always;
Asking teams for satisfaction with the work done – providing continuous coaching to the teams;In addition to these practices,
it is important that the CEO, as a leader, acts with:
Emotional sensitivity and intelligence – your workers will react differently to stress and particularly to the current situation. It is important to realize that they are going to put their health and the health of their families first, and the CEO should have the maximum understanding possible in these circumstances.
Prudence: Avoid travel (your business partners will understand) and focus on the present.
We share some additional pointers to other practices:
https://about.gitlab.com/handbook/
https://zapier.com/learn/remote-work/
https://anaxi.com/blog/2019/08/16/clearbits-approach-to-management/
https://www.linkedin.com/pulse/my-tips-working-from-home-remotely-succeeding-silje-m%C3%B8ln%C3%A5/
https://www.fredperrotta.com/remote-work-gone-wrong/
https://www.bridging-the-gap.com/join-your-distributed-team-in-virtual-celebration/
https://miro.com/blog/remote-work-2020/
https://workshopper.com/make-remote-collaboration-more-effective/
https://clearbit.com/blog/remote-work-growth/
https://clearbit.com/blog/managers-handbook-tldr/ 5
On business
https://www.coindesk.com/preston-byrne-survive-the-coronavirus-startup-legal-guide
https://www.geekwire.com/2020/advice-startups-coronavirus-outbreak-curb-expenses-assess-hiring-dont-panic-human/
https://www.entrepreneur.com/article/345759
https://yourstory.com/mystory/how-to-recession-proof-your-startup