Our History
Created in June 2012, Portugal Ventures assumed a decisive role in the financing and growth of the national entrepreneurship ecosystem.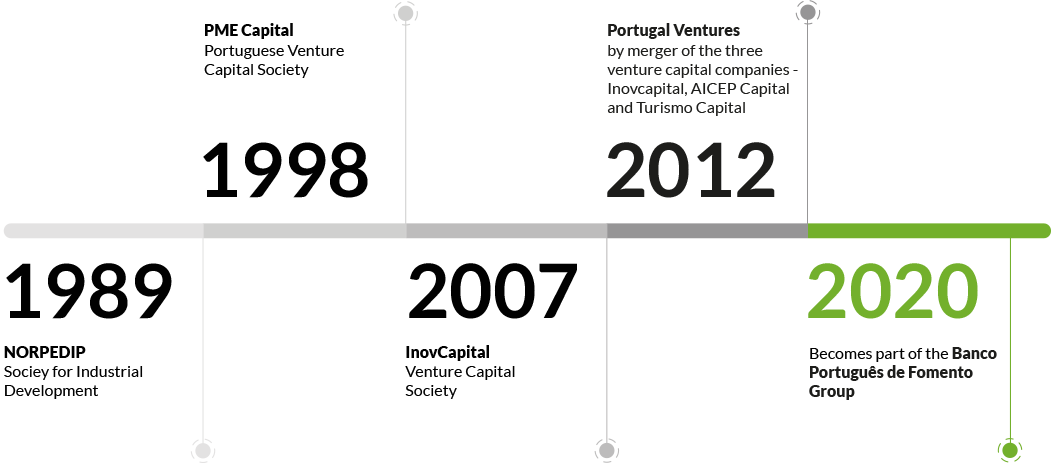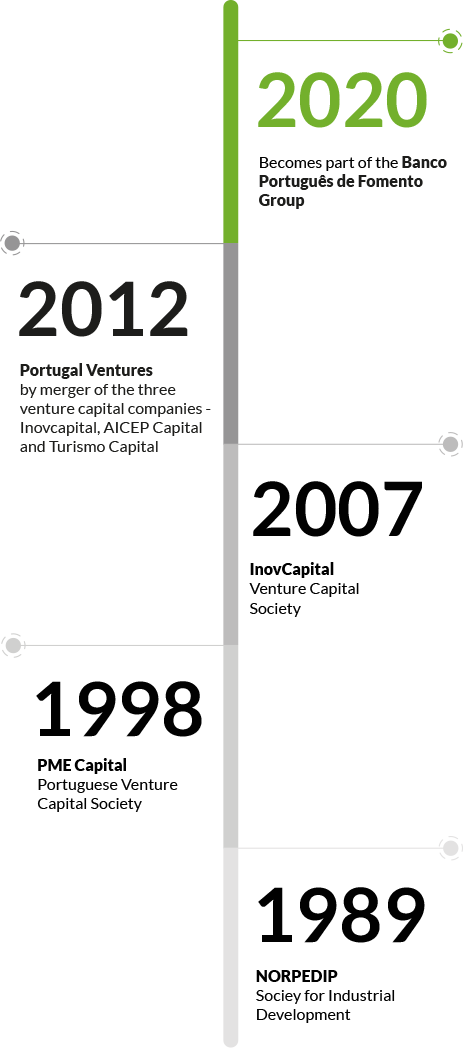 Our Vision
Portugal Ventures was founded in 2012 to drive the global success of Portuguese companies, helping them achieve competitiveness goals in all stages of development.
Over the years, we have worked to feed this ambition: to make Portugal Ventures a benchmark venture capital partner in Portugal, designing differentiated strategies for the growth, competitiveness and internationalisation potential for each of our portfolio companies.
Our Values
The corporate values that underpin our culture and bolster our identity guide us in the pursuit of our vision:



Legal Information:
Portugal Ventures' share capital, fully subscribed and paid up, is of EUR 40,412,650.00 (forty million four hundred and twelve thousand six hundred and fifty euros), represented by 8,082,530 (eight million and eighty-two thousand five hundred and thirty) shares, each with a par value of EUR 5.00 (five euros).
It is registered at the Porto Companies Registration Office under unique corporate registration and taxpayer number 502206128.
Portugal Ventures today is part of the public business sector and leads public venture capital investment, operating under the same terms and conditions that apply to private companies and subject to the general Portuguese and Community competition rules.
As a venture capital firm, Portugal Ventures and the venture capital funds it manages are under the supervision of the Portuguese Securities Market Commission (CMVM).
For Portugal Ventures, governance means complying with and applying the Principles of Good Governance of the Public Business Sector, established under Decree-Law No 133/2013 of 3 October.
All public information about Portugal Ventures is available here.
The remuneration paid by Portugal Ventures to the members of its governing bodies is indicated in the Annual Management Report and in the Corporate Governance Report, available here.
Public Service Obligations:
Portugal Ventures has not entered into any contracts with public authorities for the provision of public services or those of general interest.
Financing model and State aid received:
Portugal Ventures has not received any State aid.