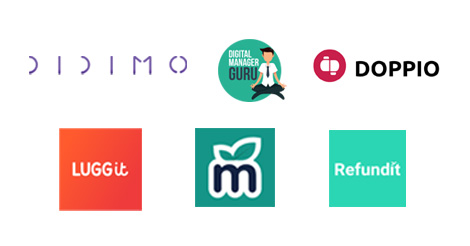 4 new investments in digital and 2 in tourism;
Six investments corresponding to a total of EUR 3.7 million;
In 2019, we invested EUR 15.6 million in 28 new startups.
Lisbon, 12 December 2019 – Portugal Ventures has invested in six new startups – Didimo, Digital Manager Guru, Doppio, LUGGit, Mercadão and Refundit, as a result of submissions to Call MVP and Call Tourism, corresponding to a total investment of EUR 3.7 million.
2019 has undoubtedly been an important year for Portugal Ventures, which saw a record number of companies and investments, translated into 28 startups and EUR 15.6 million invested. Investment in each of the areas was distributed as follows:
Digital:

8 new companies;
EUR 4.7 million;
33 startups in the portfolio.
Engineering & Manufacturing:

6 new companies;
EUR 3.1 million;
29 startups in the portfolio.
Life Sciences:

2 new companies;
EUR 2.4 million;
16 startups in the portfolio.
Tourism:

12 new companies;
EUR 5.4 million;
22 startups in the portfolio.
This portfolio growth reflects how entrepreneurs have embraced our initiatives, and how we have strengthened our ties to the ecosystem by bolstering our partner networks – Ignition Partner Network (IPN) and Ignition Capital Network (ICN) – which bridge the gap with entrepreneurs, actively contributing to the stimulation and growth of the Portuguese entrepreneurship ecosystem.
Rui Ferreira, Executive Vice President of Portugal Ventures, stresses that "bolstering our IPN and ICN partner networks was crucial to our market return strategy and, so, we would like to thank all our partners who actively shared our initiatives and sought deal flows. We would also like to thank the co-investors who participated in some of the investments made. The growth of our portfolio brings added responsibility and, to this end, in 2020 we will continue to actively engage with the ecosystem and also work more closely with and monitor the companies in which we invest, demanding rigour and transparency to achieve the proposed goals, and contribute to the success of our startups."
Submissions are currently open for thematic calls Call Blue Economy, Call Green Economy, Call AgroTech BioEconomy and Call Tourism, and run until 31 December.
Brief overview of the new startups
Didimo is a spin-off from the University of Porto led by Veronica Orvalho. It develops a technology that allows you to create hi-fidelity digital humans in just 30 seconds from a photograph or scan using your smartphone. This technology adds realism to virtual interactions with the aim of humanizing digital interactions. Bynd Venture Capital co-invested in the operation.
Digital Manager Guru, led by André Cruz, is a simple and powerful platform for those who sell or want to sell over the internet. By interacting with the leading operators in each vertical position of e-commerce (acquisition, relationship, sales and management), Guru customers can convert up to 500% more sales than with traditional e-commerce. The management team is from Brazil and they are based in Santarém.
Doppio Games was founded in 2018 by Jeferson Valadares and Chris Barnes. The studio specialises in voice-controlled games. Its first game, The Vortex, is a sci-fi thriller and its newly released game, "The 3% Challenge", is a prequel to the Netflix Original Series "3%", developed in collaboration with Netflix and the series' leading lady, Bianca Comparato.  Both games are available on Amazon Alexa and Google Assistant. The Amazon Alexa Fund, the Google Assistant Investment Program and Busy Angels co-invested in the operation.
LUGGit, founded by Ricardo Figueiredo, Diogo Correia, João Pedrosa and Hugo Fonseca, is a technology platform that allows travellers, using a mobile app (available for iOS and Android), to make a real-time request for someone to collect their luggage, store it and deliver it to the place and at the time they indicate.
Mercadão, led by Gonçalo Soares da Costa, is the first on-demand marketplace in Portugal, with deliveries made in 2-hour slots and real-time tracking of orders. Partner stores include leading retailers such as Pingo Doce and The Body Shop, and same-day deliveries are available in the Lisbon and Porto metropolitan areas. The app is now also available to multiple Portuguese district capitals. Speedy delivery is possible thanks to the platform's exclusive technology and an innovative logistics model, backed by a large team of personal shoppers.
Refundit, led by Ziv Tirosh is a VAT refund platform for non-EU citizens that simplifies and digitises the current process, doing away with paperwork and lines and, thereby benefiting holidaymakers and governments. In January 2019, Refundit won the first edition of the Start-up Competition held by the UN World Tourism Organisation. Portugal Ventures was part of the jury panel. Amadeus Ventures co-invested in this operation.