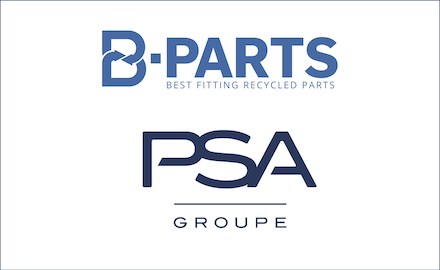 Historic milestone: PSA becomes first car manufacturer to enter the reusable parts market, strengthening its position in the circular economy;
Portugal Ventures successfully exits with capital gains.
Lisbon, 23 July 2020 – Portugal Ventures has announced that Groupe PSA, a French multinational that owns the Peugeot, Citroën, DS, Opel and Vauxhall brands, has acquired the majority of the share capital of B-Parts, making it the first car manufacturer to enter the used parts market.
With this deal, Portugal Ventures accomplishes its mission as a venture capital firm that invests in technology based projects over time to help prepare them for the global market, making their business attractive to international market leaders.
João Pereira, Investment Director of Portugal Ventures' Digital Division, who has been working with the company since it was added to the firm's portfolio, states that "B-Parts has been part of our portfolio since 2014 and has since built a fast-growing business in international markets, with ambitious, well-defined and achievable goals. This is a historic moment, the first time a car manufacturer has acquired a company whose core business is the online sale of used parts. It validates Portugal Ventures' investment strategy, which prioritises digitalisation, global ambition and the implementation of innovative business models, such as that followed in the circular economy. We are very proud to have worked with the team led by Luis Sousa Vieira and Manuel Araújo Monteiro until the exit to Group PSA".
Rui Ferreira, Vice President of Portugal Ventures, adds that "B-Part's exit is in line with one of the three strategic goals set by Portugal Ventures' current management team for its 2018-2020 term, aimed at setting the stage for divestment in its portfolio companies to generate attractive returns on the funds it manages and creating the conditions for liquidation of end-of-life funds for the various participants, based on the nature and specific characteristics of their business."
According to Luis Sousa Vieira and Manuel Araújo Monteiro, Directors of B-Parts, "In 2014, Portugal Ventures and Indexignition acquired part of the company's share capital to help it become market leader in the online sale of reusable auto parts. This kicked off a 6-year marathon marked by strong continuous growth, which was consistently above triple-digits every year, and a significant export component of 70%. The majority acquisition by Groupe PSA is without doubt a historic milestone for the automotive group and recognition of the work carried out by everyone on the team. The B-Parts team followed developments in the auto reuse parts sector, establishing partnerships with scrapping centres in five European countries and thereby making its parts available in an organised and proactive manner in more than 65 countries, with a significant presence in the European market, in the B2B and B2C channel. PSA's acquisition won't change the company's operational dynamic and culture".
Christophe Musy, Senior Vice President of PSA Aftermarket states that "our strategy is to meet the after-sales expectations of all our customers worldwide, irrespective of their purchasing power, or the make or age of their vehicle. This investment allows us to enter the heart of the reusable parts value chain, which is one of the three pillars of supply in the circular economy. It also strengthens our global offensive, designed to help us become market leaders in the reman, repair and reuse parts segments so that we can effectively meet the needs of customers looking for a cost-effective and sustainable offer all around the world. Groupe PSA is fully committed to reducing its carbon footprint, including when it comes to vehicle maintenance".