Lisbon, 27 March 2023 – As part of a set of government measures in the midst of the pandemic, Portugal Ventures, a venture capital firm that is part of Portuguese promotional bank Grupo Banco Português de Fomento, launched, in partnership with Agência Nacional de Inovação, Call INNOV-ID, an initiative aimed at bolstering projects or growing companies at an early stage so that they have sufficient funds and equity available to grow and generate new capital rounds.
The financing of €100,000 per project is intended to address a market failure in access to investment for pre-seed startups with a developed technology, but which are in the prototype, proof-of-concept or product-market-fit validation stage. This was the solution found, to date, to help projects and keep them alive, and which has had a positive effect on the national entrepreneurial ecosystem.
For António Grilo, President of Agência Nacional de Inovação (ANI), "The positive outcomes achieved with these three editions of Call INNOV-ID proves that we must continue to support world-class science and tech-based knowledge transfer and innovation. We need more and better collaboration between everyone to step up the spread of innovation in Portugal. This partnership between ANI and Portugal Ventures is an excellent example of that. Call INNOV-ID is an effective tool to fill a market gap in the financing of national entrepreneurship, enabling our technologies to be increasingly competitive at international level and to transform society, creating value for the economy."
Rui Ferreira, President of Portugal Ventures, notes that "the challenge posed to Portugal Ventures in 2020 was fully met. Thus far, we have supported 48 projects that needed this 'push' to leverage their products and businesses, and we won't stop here. Call INNOV-ID is a true success story in the entrepreneurial ecosystem. We identified this market failure, once again fulfilling our mission not only by providing financial support, but also sharing the know-how and expertise of our team. We are proud to be at the forefront of this initiative in partnership with ANI, strengthening support to entrepreneurship aligned with the capitalisation of Portuguese companies."
Portugal Ventures is proud to share the outcomes of the three editions of Call INNOV-ID, initially launched in May 2020. The second edition was launched in Coimbra at Instituto Pedro Nunes, with submissions running from 11 April to 20 May 2022. The third edition ran from 21 October 2022 to 15 February 2023, with the launch event taking place at Altice Fórum Braga, with the support of Startup Braga.
Outcome of the three editions, to date:
As a result of the three editions, and to date, Portugal Ventures has invested in 48 startups, across the following vectors:
Digital & Technology: Bandora, Ccrave, Cosmos, GovWise, Kendir Studios, Neroes, Onecare, Pluggable.ai, Stokedge, Spotlite, Tesselo, United Boutiques and Wall-i.
Manufacturing & Technology: Ablute, About Acqua Food, Aqvamore, Beeyard, Bioworld, Cell4Food, Corium Biotech, Core Protein, Eptune Engineering, goclever, Flowco/Goma, Hephaesnus, Klugit Energy, Landratech, NeuralSolar, Partner in Cream, S&DG, Scemai, Sciven, Skypowerlines, Swatter, Uzme, Wakaru, We Can Charge and Wysensing.
Life Sciences/Health Tech: BestHealth4U, ihCare, FastComChem, Glooma, Insignals Neurotech, Nurise, Risimet, R-nuucell, Rubynanomed and Wisify.
Of the 48 investments made, 11 companies have already raised a total of €10.1 million in new investment rounds, and 18 companies have investment rounds underway and are expected to raise a total of €16.4 million.
Twenty-two more investments are in the pipeline, to be made by the end of 2023.
Today, we are pleased to announce five new investments through Call INNOV-ID:
Glooma – based in Braga, Glooma wants to revolutionise breast cancer prevention. With a well-defined mission to increase the percentage of cancers that are detected at an early stage, it created a sensory glove that facilitates the interpretation of results at the time of self-palpation based on machine learning algorithms.
Hephaesnus – Hephaesnus is dedicated to increasing efficiency in fighting forest fires in an environmentally sustainable way. With its products, the startup aims to reduce risks, financial expenses and the widespread destruction of forests and the environment affected by the worldwide scourge of forest fires. It has a multicultural and multidisciplinary team, highly skilled in materials engineering, mechanics and chemistry and able to innovate in the various components that make up our technology, which is an advantage in areas beyond its target market.
Pluggable.ai – Pluggable has a suite of technology solutions that, using disruptive AI models and multiple non-intrusive smartphone sensors, adds a layer of intelligence to any mobile application, allowing businesses to interact with each of their customers individually and at the best time for them. These solutions easily improve the retention, response and engagement rates of any mobile app. For Pluggable being non-intrusive is mandatory, and its solutions fully guarantee user privacy.
Risimet – RISIMET (RIng for SImultaneous Massage and ElectroTherapy) consists of the simultaneous execution of two of the most used techniques in physiotherapy – manual massage and low-frequency electrotherapy.  The combination of these two techniques increases the potential of their individual effectiveness, reducing both the duration of each treatment and the total number of sessions, leading to improved quality and comfort and a reduction in costs for both the professional and users. The innovative and exclusive nature of the RISIMET method and device offers countless opportunities for application in various areas – musculoskeletal, neurology, traumatology, and dermato-functional physiotherapy.
Stokedge – Stokedge is an artificial intelligence-based platform that monitors the luxury fashion industry and converts vast amounts of global market data into objective, actionable daily metrics.The platform provides retailers and brands greater transparency and increased liquidity in this market, so that they can improve their efficiency and optimise their portfolio.
Among the companies that have already raised investment rounds, of note are the:
Nu-Rise seed series, in a €3.25 million co-investment round with GED Ventures Portugal and Yellowstone Holding AG.
Spotlite seed series, in a total €1.5 million co-investment round with Indico Capital Partners, EDP Ventures and Shilling.
BestHealth4U seed series, in a total €1 million co-investment round with Lince Capital.
The Call INNOV-ID portfolio also includes 44 founders with PhDs and 31 registered patents.
The need for the ecosystem to have access to this type of financing was made clear since the first edition of the Call based on the number of applications received, a total of 313 in the three editions: in the 1st edition (2020) 117 applications were submitted and in the 2nd and 3rd editions (2022) 85 and 111 applications were submitted, respectively.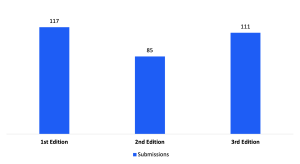 The 313 applications focus on the following areas of action: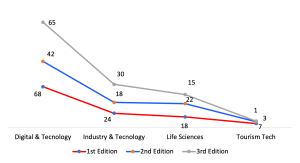 In the three editions, the applications were predominantly submitted by male entrepreneurs aged between 31 and 40.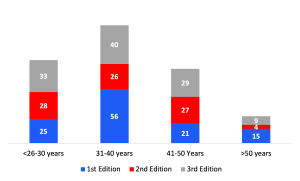 In respect of applicant companies, most are led by teams with less than 6 people, with a company incorporated for less than a year or that has not yet been incorporated and, therefore, with no turnover.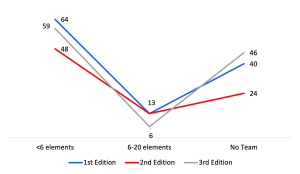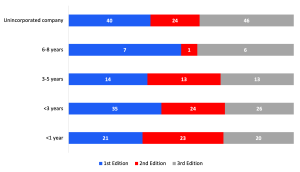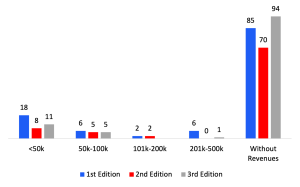 In terms of the geographical area of operation of the applicant projects, applications were submitted from all over Portugal, including the islands, and in particular from the metropolitan area of Lisbon and Porto, and from Coimbra and Aveiro.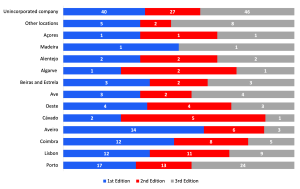 The contribution from our partners was key for this Call, with applications being submitted exclusively through our Ignition Partner Network, which comprises 125 organisations. In the three editions, the involvement of the following partners are of note: Instituto Pedro Nunes (IPN), Lispolis, PCI Aveiro, Startup Braga, Startup Lisboa and UPTEC.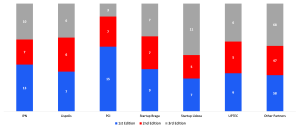 Other IPN partners: Acredita Portugal, ADRAL, AIP, Amadora Innovation, ANJE, Atlântico Business School, Ass. Vale do Xisto, Astrolábio, Audax, BGI, Beta-i, Build up Labs, Business Incubator Aveiro, Circklo, CM Fundão, CTCV, DNA Cascais, Demium, Fábrica de Startups, Fintech House, Finy Ventures, Founders Founders, Hralth Cluster Portugal, Hub Azambuja, i3S, IETâmega, IDD, Impact Hub, INESC TEC, InovaGaia, IP Bragança, IP Leiria, IP Portalegre, IP Porto, Junitec, Madan Parque, Nersant, Nonagon, Nova SBE, Novotecna, Obitec, Open, PACT, Sanjotec, Set.up.Guimarães, Startup Leiria, Startup Madeira, Startup Sintra, Taguspark, TecLabs, TecMinho, Territórios Criativos, Terrinov, Torres INNOV-E, Univ. Algarve, Univ. Beira Interior, Univ. Aveiro, Univ. Nova de Lisboa, Union Venture Builders, UTAD. 
Since the first edition of the Call, Portugal Ventures has made 6 divestments: Ccrave, Core Protein, Eptune Engineering, ihCare, Tesselo and United Boutiques.