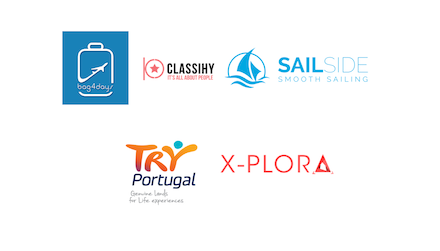 Call Fostering Innovation in Tourism (FIT) has led to investment in 3 new startups that were finalists in the Turismo de Portugal acceleration programmes.
Two startups and EUR 1 million in investment were the result of the Call Tourism initiative, which runs until 31 December.
So far, in 2019 Portugal Ventures has invested EUR 11.8 million in 21 startups.
Lisbon, 14 October 2019 – Portugal Ventures has added 5 new startups to its Tourism portfolio – Bag4Days, Classihy, Sailside, Try Portugal and X-Plora, corresponding to a total of EUR 1.3 million in investment.
In June, Portugal Ventures, together with Turismo de Portugal and Nest – Centre for Innovation in Tourism, launched Call Fostering Innovation in Tourism to address the gap in the market for the financing of tourism projects in the pre-seed stage which, given their characteristics and associated high risk, find it more difficult to access financing. This initiative saw the submission of the finalist projects from the Turismo de Portugal Fostering Innovation in Tourism acceleration programmes, which closed in 2017 and 2018.
As a result of Call FIT, Portugal Ventures invested in Bag4Days, Classihy and Sailside. In 2020, the 2nd edition of the call will be launched, to which the finalist projects from the 2019/2020 Turismo de Portugal acceleration programmes can be submitted.
Call Tourism led to new investments by Portugal Ventures in Try Portugal and X-Plora, thus increasing the number of companies in its tourism portfolio to twenty.
As Tourism is Portugal's most dynamic economic sector, Portugal Ventures, together with its partner and shareholder Turismo de Portugal, is thus boosting investment in the sector by creating more opportunities to improve conditions and experiences for holiday makers who visit the country. These investments also reflect an effort to address the market gap to support finalist projects of the acceleration programmes, which benefits the sector.
For Pedro de Mello Breyner, Executive Board Member of Portugal Ventures, who heads up the Tourism division "The fruits of the work we've done with Turismo de Portugal can be seen with our growing portfolio, which includes startups and projects that will help promote the sector. The companies incorporated as a result of the FIT programme also show our commitment to addressing the lack of investment in pre-seed projects, which gives us the opportunity to help position Portugal as a benchmark hub for innovation, entrepreneurship and the production of goods and services for the tourism sector. Portugal Ventures intends to invest more in the Tourism sector to help foster innovation, entrepreneurship and the internationalisation of companies, to boost investment.
Portugal Ventures currently has four open calls for innovative science and tech-based projects in the blue economy, circular economy and energy and AgroTech  sectors. These calls aim at addressing the market gap and leveraging solutions for environmental and social problems. As for tourism, the aim is to boost Portugal's most dynamic economic sector. The deadline for submissions to these Calls will be extended to 31 December.
Brief description of the new startups resulting from Call Fostering Innovation in Tourism
Bag4days led by Rúben Marques, is a pioneering company in Portugal when it comes to luggage rental. It allows travellers to rent high-quality luggage easily, quickly and effectively and at an affordable price. Luggage can be collected from or delivered to any address in Europe indicated by the customer. It encourages the sustainable use of resources by sharing durable goods, thus contributing to environmental sustainability.
Classihy is a platform that helps hotel/restaurant managers to manage staff based on the skills needed for each job. Led by Ariane de Melo, Classihy reinvents today's performance rating systems, creating a community and a smart, revolutionary and real-time performance tool that is of value to everyone.
Sailside is a marketplace  for renting boats that is revolutionising how people interact with the sailing industry. Led by João Vilas Boas the company operates in Portugal, Spain, Brazil and the United Arab Emirates.
Brief description of the new startups resulting from Call Tourism
Try Portugal, led by Catherine de Freitas and with registered office in Fundão, is a tour platform and operator that offers personalised active tourism, cultural and sports packages and experiences to discover Portugal's natural and cultural heritage. Focusing mainly on inland Portugal, it offers international tour operators themed programmes, accommodation options and distinct events.
X-Plora is an app that guides users through museums, monuments, castles and even cities, offering an immersive and interactive experience using contextualized content: virtual and augmented reality, 360° videos, binaural sound and other features. Led by Mafalda Ricca, the startup aims at enriching the experience of visitors, offering what could be described as "the evolution of the audio guide".